Press Release 10/20
Supply Chain Management Platform SPOT awarded with the HERMES Verkehrs.Logistik.Preis
SPOTworx, a leading provider of cloud-based supply chain management software, has won the Austrian Logistics Award in the category "Supply Chain" for its Visibility & Collaboration Platform "SPOT".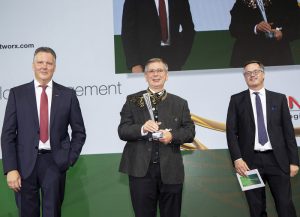 With a team of experts from the fields of logistics, transportation and supply chain management, SPOTworx supports its clients in the digitalization and automation of logistics business processes, from procurement and transportation to warehousing and distribution. This is made possible by the Visibility & Collaboration platform "SPOT", which was developed in 2000 and has since received numerous upgrades and extensions.
The HERMES Verkehrs.Logistik.Preis from the Federal Transport and Traffic Division of the Austrian Chamber of Commerce honors innovative achievements of companies in the domestic transport and logistics industry. It is awarded annually in five categories and presented at the HERMES Verkehrs.Logistik.Gala in the Vienna Hofburg. At this year's gala, SPOTworx won the prize in the category "Supply Chain" for its cloud-based supply chain management platform SPOT.
The project submitted by SPOTworx described a case study on the implementation of SPOT Time Slot Management. This is a cloud-based application within the SPOT platform, developed by SPOTworx in cooperation with the company Rosenbauer to optimize their incoming goods processes.In the course of a survey of customer requirements, it turned out that shipments arrive at the warehouses without prior notification. This lack of transparency led to a number of challenges: The site was overcrowded with trucks waiting to be unloaded, causing backlogs inside and outside the site. The warehouse staff did not have enough time to store the incoming deliveries. There was no transparency or ability to predict incoming deliveries. The logistics manager always had to coordinate unloading manually and on an ad-hoc basis.
With the introduction of the SPOT Time Slot Management module, arriving truck drivers or carriers can now book their time slots for loading and unloading independently. The warehouse staff at the respective ramp receives a prompt forecast of the daily volume and after confirming an unloading activity, the system displays the progress, such as "50% done for today!" or "75% done!" The exact information about delivery or collection smoothes the utilization of the warehouse ramp personnel and equipment and thus increases efficiency. In addition, the planning option provided in SPOT Time Slot Management leads to reduced backlog inside and outside the premises. SPOTworx, in turn, was given the opportunity to expand its existing portfolio based on a specific business case and to offer it to other customers.
Christian Binder, Director of SPOTworx: "We are honored by this recognition of our synergetic and constructive collaboration with our customers around the world. In addition, we look forward to participating in the Austrian Logistics Day on October 21, 2020 at the Design Center Linz, where we will have the opportunity to present our services and exchange ideas with experts from the fields of logistics, procurement and digitization".
Vienna, October 2020